Senior journalist Ujjawal Trivedi has worked with major media platforms such as Zee News, Star News, NDTV and CNBC. He has been instrumental in the launch of zoOm's YouTube channel Telly Talk India and Bollywood news channel E24. Currently, his videos are a rage on various social media platforms.
In this blunt, bold and frank tete-a-tete with BollywoodPR.in, Ujjawal rips apart facets of Bollywood, the PR industry, as well as the media…

and we have the guts to publish it all

.
In the wake of all the negativity about the PR profession by trolls on Twitter, do you think Bollywood actors should avoid hiring PRs for themselves?
The level of harm all the B-town actors have done to themselves by not showing their support to Sushant Singh Rajput — I don't think that any PR strategy can save them. In my career of 20 years as a journalist, I have never seen any such example. It's been almost eight weeks that people all across the globe are posting only negative comments (on the Sushant Singh Rajput matter). It's a power of social media that has clearly shown it's so transparent that no PR can hide it by applying any strategy. For the first time, I have seen that most of the celebs have shut their comment boxes because they know that people are going to abuse them. I don't think any PR can help them, as it's their own behaviour which has gone against them.
Do you think publicists have the ability to influence the fabric of society through the messages they help put out via celebrities?
To an extent yes, but not in the current (SSR matter) scenario.
Video: Ujjawal Trivedi says there is a big dilemma facing all the Bollywood PR agencies in Mumbai 
What do you think about the quality of journalism today? Do you think there is scope for improvement?
I can clearly see there are no journos left in the entertainment industry. They have become a part of marketing strategies and PR tools. Most of the news organisations have started doing marketing deals and promotional partnerships, which leave no scope of asking any honest questions.
Can you elaborate on your views about Paid News (editorial articles on sale)?
See, our audience has become smarter. And intelligent filmmakers are doing experiments with new kind of content. So this new kind of evolved audience can easily make out what is made up content and what is something which is coming out naturally. Paid editorial articles are not going to work. There are times social media reacts negatively and writers and other individuals are trolled for it.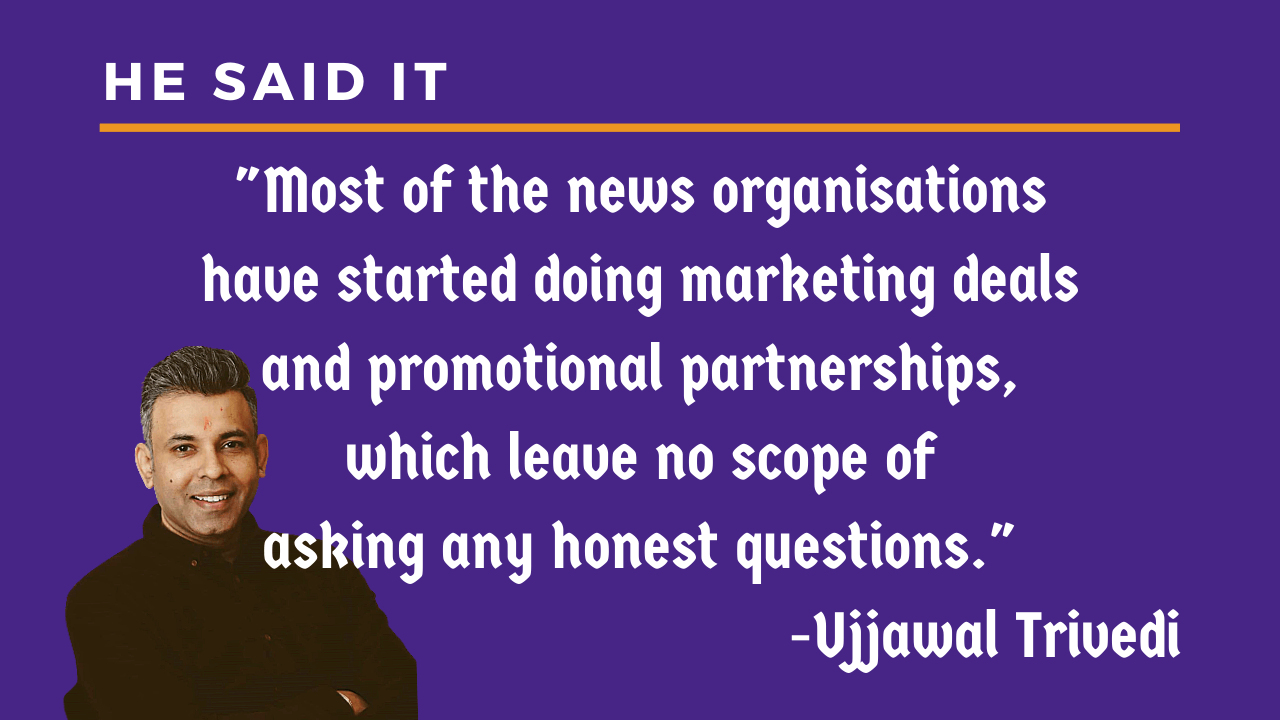 What about Fake News. Do you think it can be curbed or even controlled?
Fake news can be controlled and PR strategies should be likewise aligned to do that. In fact, I believe that should be the utmost priority. But on the other hand, there are certain content creators who have a strong image about their content being authentic and unbiased. The audience trusts them that their content can never be fake. I experienced the same when I started posting my vlogs. I ensured that I kept my content subtle and natural, so that people could understand the genuine approach. It worked well. The kind of response I have received due to my honest approach, clearly signifies that the audience respects genuine content.
What advice do you have for those looking to maximize exposure and grow their community?
To get maximum exposure, I would suggest an honest approach with consistency and innovation. This can work with all professions.
What's your plan for 2021?
My plan for 2021 is to continue with the current flow and raise more and more of relevant issues. I believe social media is the most honest medium where one can express freely. I am learning a lot by interacting with my audience. I call them my online family and I would want to continue with that.
Disclaimer: The views and opinions expressed in the interview are the interviewee's own and do not necessarily reflect the views and opinions of any other individual, organisation or this website.