Following the legacy of your father Mr Ramraj Nahta, you started out in journalism at a very young age and later took over as editor of cine trade magazine Film Information. From years together, your reviews are considered as frank, unbiased, authentic and extremely credible. Do producers ever try to use their influence or pressure you for positive reviews?
Every producer is tense at the time of his film's release and so he is keen that his film gets positive reviews. When I started out, many producers tried to pressurise me for favourable reviews. But over the years, my reputation as being fiercely independent has spread. Now, more than pressure, it is requests from producers to be "kind". But when the pressures don't work, you can be sure, the "requests" also fall on deaf ears. I know one thing very clearly: I review films for my audience, not for the producers. So my loyalty has to lie with my audience (readers / viewers / listeners).
Frankly, I didn't take over from my father at a very young age. I first completed my graduation, then my Chartered Accountancy. So, I actually entered my father's business quite late. And believe it or not, while I was studying, I used to watch only seven or eight films a year! Now, I often watch more than that number in just two weeks.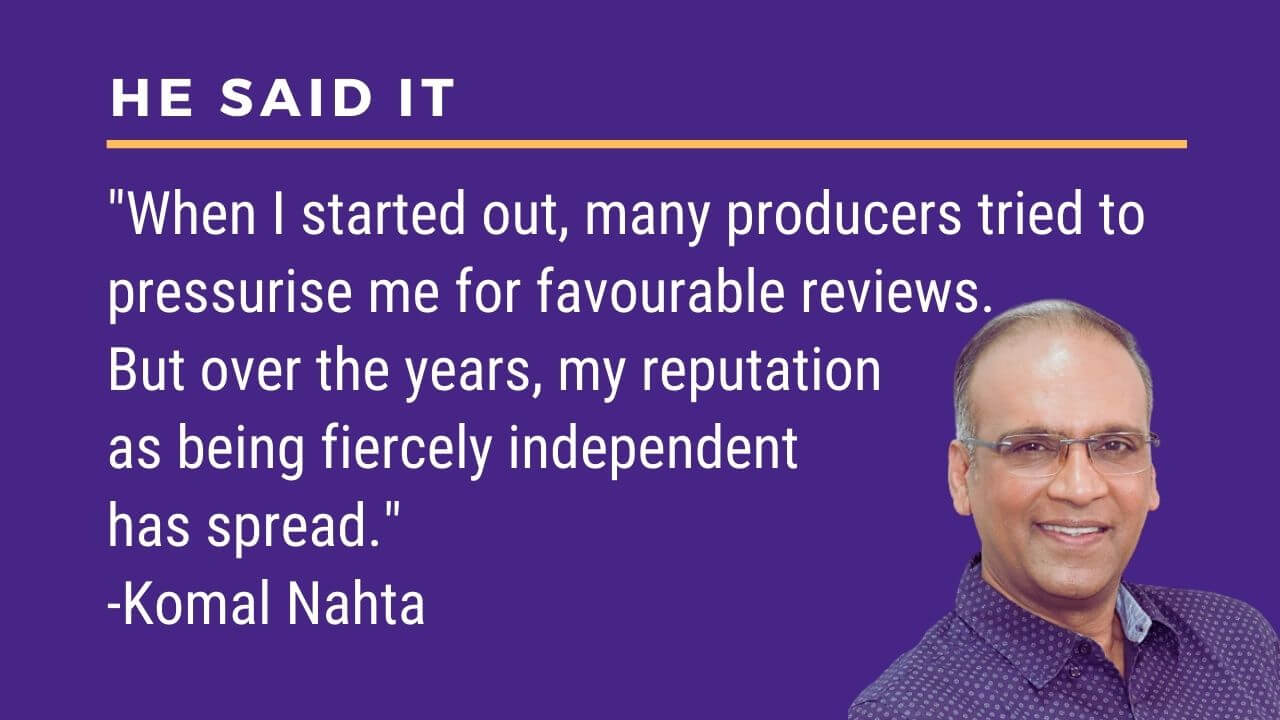 Do your honest, forthright reviews and box-office predictions antagonize filmmakers at times? Do people hold a grudge too? Over the years, has that affected the advertisement revenue of Film Information? If yes, how have you managed to handle such situations?
Nobody likes to be told that his child is ugly… or not the best looking. So, obviously, with a failure rate of 80% in the film industry (only 18-20% films click at the box-office every year), producers whose films are below average, get antagonised and angry when my review is out. Sometimes, producers even resent my reportage of genuine collections. Yes, they seek revenge too. They will be rude to me. They will talk ill about me behind my back. They may not invite me to their parties. But these things never bother me, simply because I am neither here to please anyone nor am I here to attend parties. Frankly, that's part of the game. I know one thing: I don't have to misinform because that would mean antagonising my audience. I always tell people, I may go wrong once in a while but that is an error in judgement rather than being prejudiced or favouring someone.
As I said, my job is to remain unbiased and honest. If I wasn't prepared for this, I would've pursued my CA profession. But yes, vengeful actions on the part of producers and stars definitely adversely affect the ad revenues of Film Information. However, my father had taught me to never compromise on integrity. I look at it this way: if I am dishonest even once, my reputation as a reviewer of integrity would be blemished. Then, I would never get the same respect. For, I can't go to people and tell them, I cheated only that one time. I did not join the CA profession despite being offered partnership in the CA firm where I did my internship (and it was one of the best CA firms of India) because I wanted to get into my father's business of film journalism. I was very clear in my head and so I never regretted the decision. I firmly believe that what is in my destiny shall come to me. So when the ad revenues decline, it means that the money was never meant for me. Had it come to me, it would have gone away as quickly. Maybe, I'd be hospitalised or some such calamity would befall me. In money matters, I am extremely God-fearing.
I must narrate an interesting incident here. Those were the days when my father, who founded Film Information, was alive. Those were also the days when producers' associations (like IMPPA) used to ban trade papers like ours if we published information which, they felt, was detrimental to them. If a trade magazine was banned, no producer was allowed to advertise in the magazine till as long as the ban lasted. One such ban was imposed on our magazine. (Late) Raj Kumar Barjatya ji (who was a very close friend of my dad) tried his best to convince my father to apologise to IMPPA and have the ban lifted. But my father stood his ground because he was not wrong in what he had written in the magazine. This ban was imposed just a little before Diwali. There was another film trade magazine, Trade Guide, in those days. This was edited and published by my dad's eldest brother, Mr. B.K. Adarsh, who was comatose at that time at Nanavati Hospital. (He passed away soon thereafter.) Coming back to the ban, Diwali was approaching. Those in the film trade would recall that our bumper Diwali issue used to be full of ads. Since I did not have the experience of my father, I asked him why he was not attempting to have the ban lifted because otherwise, we would suffer a huge loss in terms of zero advertisements in the magazine in the approaching Diwali issue. Without batting an eyelid, my father had replied, "Let all our share of ads go to Trade Guide. Bhaisaab is in hospital, so God wants all the money to go there to take care of the medical expenses. The ban on our magazine has come at this time because it is God's will that I contribute to Bhaisaab's treatment. I will not attempt to have the ban lifted, not for now at least, even if that means a financial loss to us."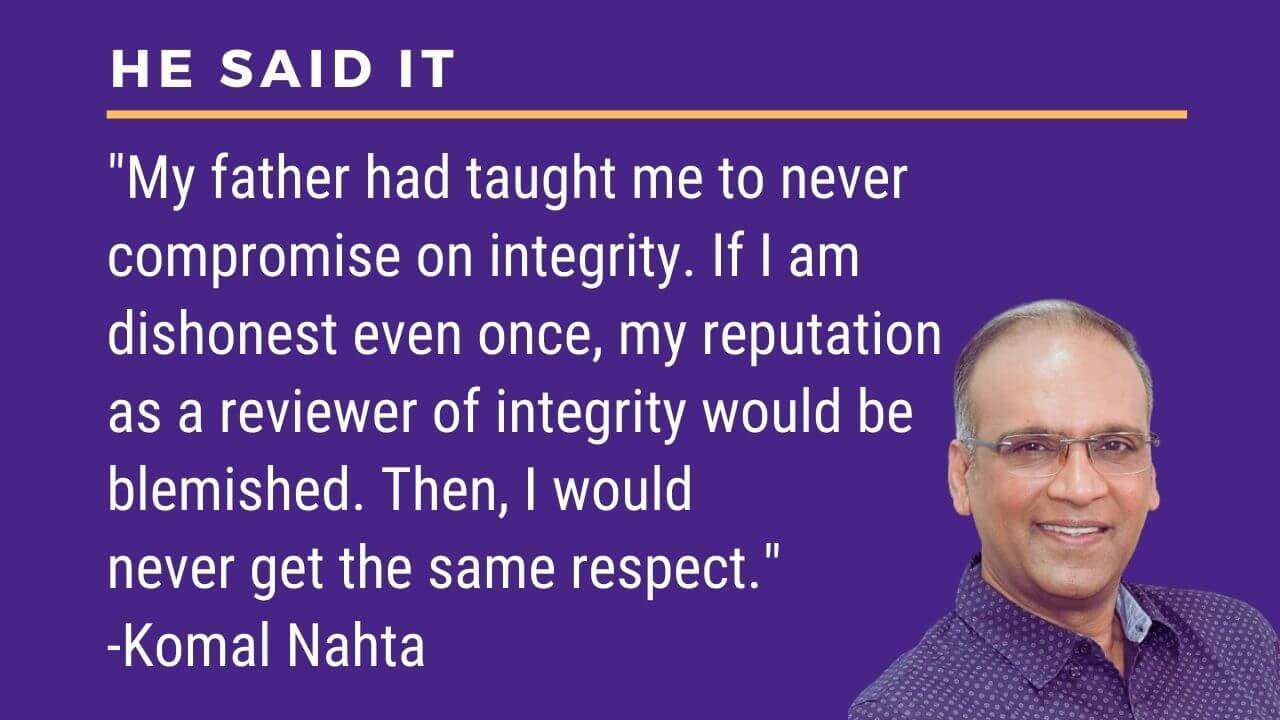 After being an old-school journalist and trade editor who hardly faced the camera for many years, you suddenly made a very smooth and dynamic transition as the host of ETC Bollywood Business and followed it up being an anchor and reviewer on YouTube. Film Information is now in its 48th year of publication with the magazine's recent transition to online media. As a trade analyst, you also have a humongous following on Twitter. Apart from all the glory, you have adapted so well from print to television and internet. Was this transition, from being a person behind the camera to facing it, challenging and daunting?
The transition was challenging but not daunting. When I started to host the ETC Bollywood Business show on April 26, 2010, I asked the channel if my reviews could be telecast on Saturday / Sunday / Monday, instead of Friday. The channel head couldn't believe his ears and I instantly understood that I had asked an extremely silly question. Obviously, he insisted that in this age and time, a delay of even a day would be detrimental. When he asked me why I wanted it that way, I told him, 'Thursdays and Fridays are extremely busy days for me as my magazine is published every Saturday. We work all of Friday night every week, so it will be impossible to shoot that day.' I concluded, 'Film Information is my life.' But once I started to host the TV show, it took barely two-three weeks for the show too, to become my life. I realised that just like I could do anything for Film Information to be out in the market (trade) on time, I could likewise do anything for the show to succeed and be ready on time. That's how we managed to telecast the reviews on Fridays.
Till four years before I started hosting ETC Bollywood Business, I used to host two TV shows for Applause Entertainment, on Zee TV. Interestingly, if people like my hosting skills, I must give credit to Archana Kanade, the producer of my show at Applause Entertainment. When I started that show in the early 2000s, I was a bit awkward for a couple of days, especially when I was talking to the camera. Archana then told me, "Komal, you explain things so well when you are talking to us. Just assume that you are speaking to one of us, forget that there is a camera in front of you." That did it! I never ever looked back thereafter. I will ever remain grateful to my dear friend, Archana, for this extraordinary tip she gave me to improve my hosting skills.
Your brand of journalism has always been very witty, informative, lively and sometimes having a dose of tongue-in-cheek humour, with puns in your writing. Did this trait come of help when you made the shift to television and YouTube reviews and interviews?
Wit and humour always come in handy to diffuse difficult situations and to convey unpleasant things in a better way. Also, since we deal with facts and figures, which can get boring after a point of time, I consciously started adding humour to my articles. So, yes, tongue-in-cheek comments and puns always come in handy. Besides, by nature, I am a fun-loving person, so this has also come into my writing.
Do you enjoy the overwhelming response that you get on Twitter or does it get intrusive at times?
If I say that I do not enjoy it, I would be lying. Who doesn't want this kind of response? Does it get intrusive? Well, that's not at all an issue. What is disturbing is when faceless creatures try to teach you what you've been doing for over two decades and about which they have no clue. And you know that they are doing it to gain attention. It's their two minutes of fame. It's best to ignore them so that the fame they crave for those two minutes, actually turns out to be their two minutes of shame! However, I must confess that on rare occasions, I do give it back to the trolls.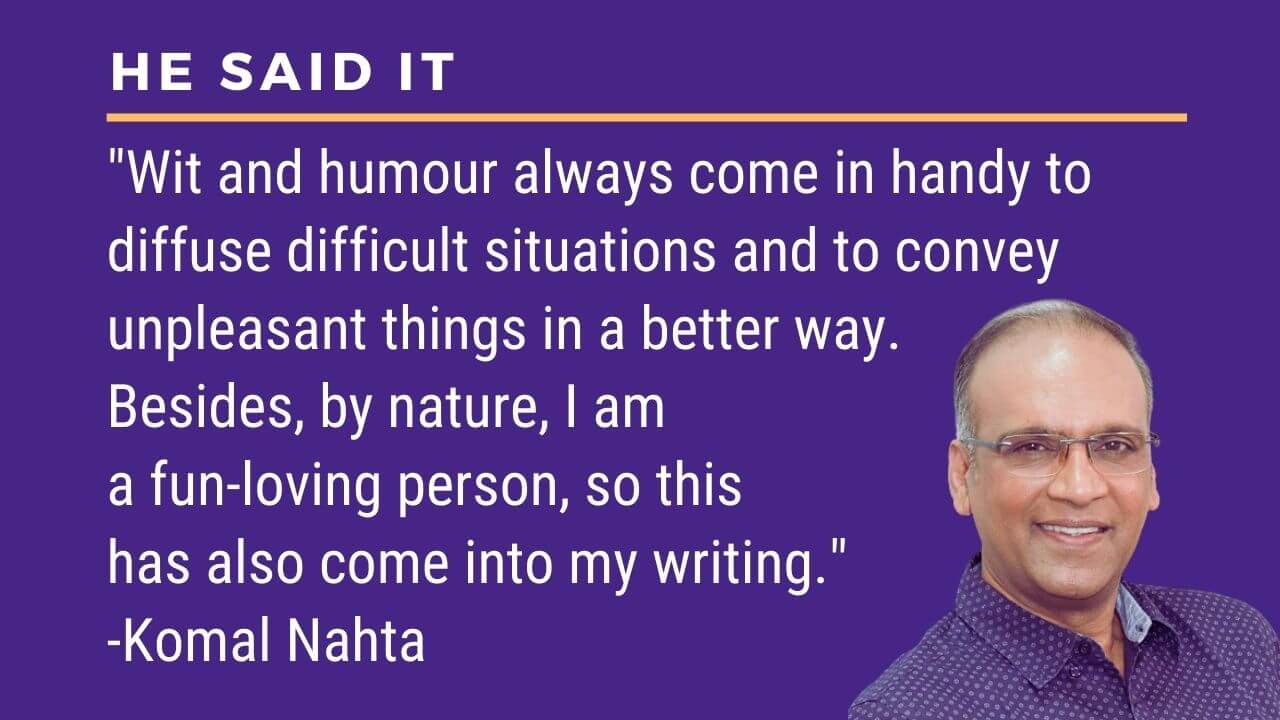 Because of the multiple media platforms which exist today, do you think it's easier for actors to get famous? Or has the variety of media made it more complicated and difficult?
Frankly, actors can get as famous as they want through social media but their real test lies in their work which is acting. A lot of actors have complained that they are not being signed for films and TV serials because they are not active on social media. This is because producers find actors who are active on social media more worthwhile. I suppose, they want their actors to promote their films / TV serials / web series for free on social media. This is a very disturbing trend because an artiste must be signed for his talent rather than for how many followers he has on Twitter. This may be the trend today but let me tell you, it cannot last for long.
Do you think Bollywood publicists have the ability to influence the fabric of society, through the messages they help put out via celebrities?
We live in an era where everything that comes on social media is considered to be the gospel truth by many. More so, if celebrities say it or endorse it. Therefore, yes, publicists can influence the fabric of society to an extent.
In the wake of all the negativity about the PR profession by trolls on Twitter, do you think Bollywood actors should avoid hiring personal PRs for themselves?
Twitter is predominantly a negative platform in the sense that there are millions who are on Twitter only and only to troll celebrities. It's their full-time job to troll because they have nothing better to do. Bollywood actors cannot give so much importance to trolls because if they were really important, they would be doing something more fruitful, worthwhile and positive in life. Trolls are, generally speaking, frustrated souls looking for recognition.
Until a few years ago, Bollywood publicists never created a barrier between celebrities and the media. But the current generation of PRs attempt to control all the imaging and branding. As an editor and a journalist, do you feel that this element of PR control is necessary for perception building and celebrity branding? Or is all the control detrimental for gathering news media mileage?
Too much control in any area is always detrimental; it can never be helpful to any party. Control to an extent is good but some publicists do go overboard.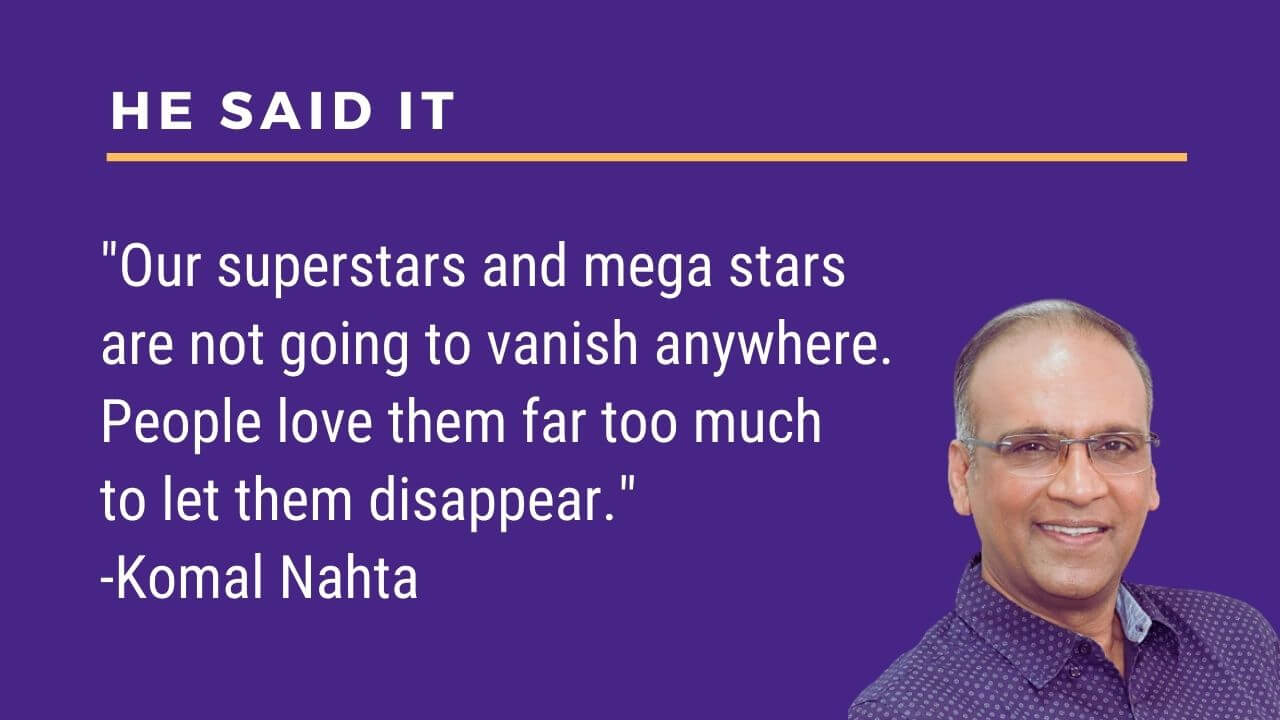 You are known as a master networker. Can you share some tips on great networking in times of the Coronavirus crisis?
A news person has to be good at networking. That's a prerequisite for a media person. During the Coronavirus pandemic lockdown, phone calls and WhatsApp have been the most useful tools to stay in touch. I also created Broadcast Groups on WhatsApp last year, a couple of months after the lockdown started, and I keep sending links to the articles and news items on my website FilmInformation.com to these groups. I also send them the links to my YouTube videos. Sometimes, I broadcast my tweets to these groups. The aim is to disseminate news as fast as possible. It started as one Broadcast Group (with 256 members) but today, I have 22 Groups in all. I keep getting requests from people to add their WhatsApp number to the list. And I am only too happy to do that.
After the advent of so many live streaming platforms, coupled with the crisis caused by the pandemic, do you feel the magic of the silver screen is fading? Will we have superstars and megastars in future too?
The magic of the silver screen cannot fade so soon. People often say that the public is now habituated to watching films on OTT platforms, so they won't return to the cinemas. Oh really? If you refer to what the public has been doing for the last 17 months as 'habituated', what about our habit of watching films on the big screen since many many years? That's the real habit, what has happened in the last 17 months is only a stop-gap arrangement. Our superstars and mega stars are not going to vanish anywhere. People love them far too much to let them disappear. In fact, my prediction is that once normalcy returns, we will get to see box-office collections of the kind we've never even imagined! The box-office will roar like never before, I am convinced!!