In their newsletter called Stamp, Whistling Woods International (WWI) featured my experiences with megastar Amitabh Bachchan 25 years ago. Thanx WWI, Priyanka Pai, Alison Dcruz, Aditya Mandre, Karn Gupta, Saili Kocharekar, Niviya Augustine, Pooja Doke, Jaison Chacko, Sumedha KS and Team Stamp.
BELOW: REPRODUCING THE ARTICLE VERBATIM FOR YOUR EASY READING…
The power of persuasion
(Applied on Amitabh Bachchan)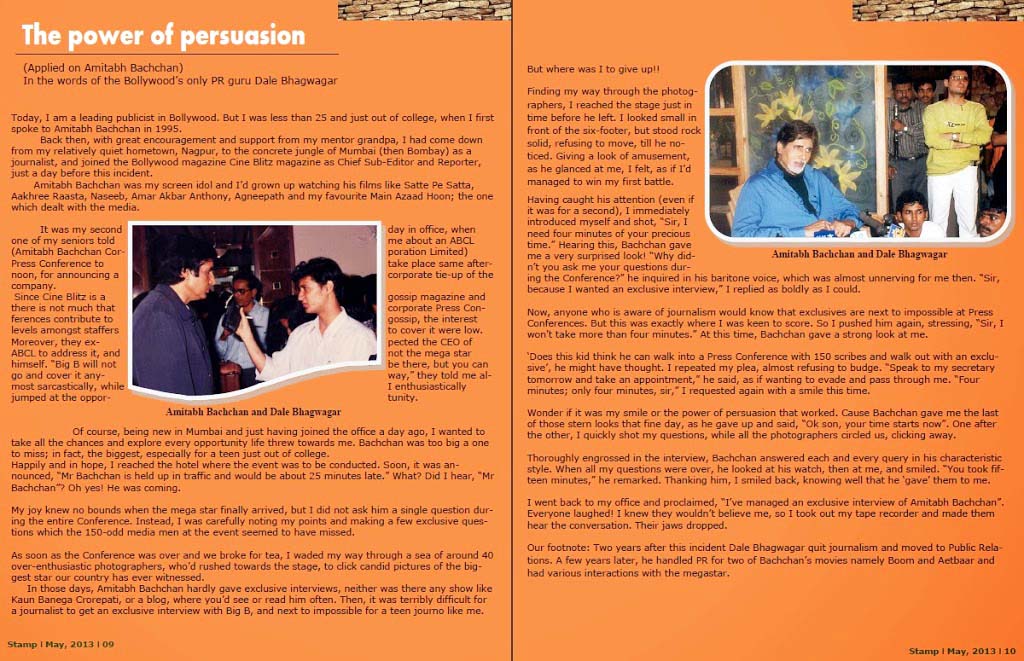 Today, I am a leading publicist in Bollywood. But I was less than 25 and just out of college, when I first spoke to Amitabh Bachchan in 1995.
Back then, with great encouragement and support from my mentor grandpa, I had come down from my relatively quiet hometown, Nagpur, to the concrete jungle of Mumbai (then Bombay) as a journalist, and joined the Bollywood magazine Cine Blitz magazine as Chief Sub-Editor and Reporter, just a day before this incident.
Amitabh Bachchan was my screen idol and I'd grown up watching his films like Satte Pe Satta, Aakhree Raasta, Naseeb, Amar Akbar Anthony, Agneepath and my favourite Main Azaad Hoon; the one which dealt with the media.
It was my second day in office, when one of my seniors told me about an ABCL (Amitabh Bachchan Corporation Limited) Press Conference to take place same afternoon, for announcing a corporate tie-up of the company.
Since Cine Blitz is a gossip magazine and there is not much that corporate Press Conferences contribute to gossip, the interest levels amongst staffers to cover it were low. Moreover, they expected the CEO of ABCL to address it, and not the mega star himself. "Big B will not be there, but you can go and cover it anyway," they told me almost sarcastically, while I enthusiastically jumped at the opportunity.
Of course, being new in Mumbai and just having joined the office a day ago, I wanted to take all the chances and explore every opportunity life threw towards me. Bachchan was too big a one to miss; in fact, the biggest, especially for a teen just out of college.
Happily and in hope, I reached the hotel where the event was to be conducted. Soon, it was announced, "Mr Bachchan is held up in traffic and would be about 25 minutes late." What? Did I hear, "Mr Bachchan"? Oh yes! He was coming.
My joy knew no bounds when the mega star finally arrived, but I did not ask him a single question during the entire Conference. Instead, I was carefully noting my points and making a few exclusive questions which the 150-odd media men at the event seemed to have missed.
As soon as the Conference was over and we broke for tea, I waded my way through a sea of around 40 over-enthusiastic photographers, who'd rushed towards the stage, to click candid pictures of the biggest star our country has ever witnessed.
In those days, Amitabh Bachchan hardly gave exclusive interviews, neither was there any show like Kaun Banega Crorepati, or a blog, where you'd see or read him often. Then, it was terribly difficult for a journalist to get an exclusive interview with Big B, and next to impossible for a teen journo like me.
But where was I to give up!!
Finding my way through the photographers, I reached the stage just in time before he left. I looked small in front of the six-footer, but stood rock solid, refusing to move, till he noticed. Giving a look of amusement, as he glanced at me, I felt, as if I'd managed to win my first battle.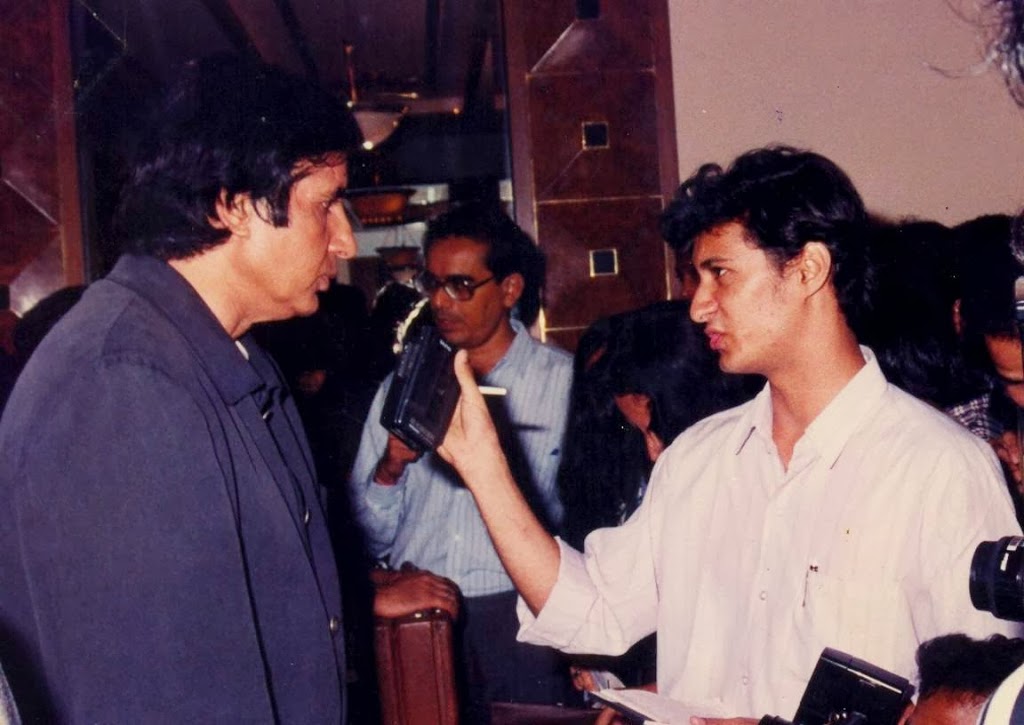 Having caught his attention (even if it was for a second), I immediately introduced myself and shot, "Sir, I need four minutes of your precious time." Hearing this, Bachchan gave me a very surprised look! "Why didn't you ask me your questions during the Conference?" he inquired in his baritone voice, which was almost unnerving for me then. "Sir, because I wanted an exclusive interview," I replied as boldly as I could.
Now, anyone who is aware of journalism would know that exclusives are next to impossible at Press Conferences. But this was exactly where I was keen to score. So I pushed him again, stressing, "Sir, I won't take more than four minutes." At this time, Bachchan gave a strong look at me.
'Does this kid think he can walk into a Press Conference with 150 scribes and walk out with an exclusive', he might have thought. I repeated my plea, almost refusing to budge. "Speak to my secretary tomorrow and take an appointment," he said, as if wanting to evade and pass through me. "Four minutes; only four minutes, sir," I requested again with a smile this time.
Wonder if it was my smile or the power of persuasion that worked. Cause Bachchan gave me the last of those stern looks that fine day, as he gave up and said, "Ok son, your time starts now". One after the other, I quickly shot my questions, while all the photographers circled us, clicking away.
Thoroughly engrossed in the interview, Bachchan answered each and every query in his characteristic style. When all my questions were over, he looked at his watch, then at me, and smiled. "You took fifteen minutes," he remarked. Thanking him, I smiled back, knowing well that he 'gave' them to me.
I went back to my office and proclaimed, "I've managed an exclusive interview of Amitabh Bachchan". Everyone laughed! I knew they wouldn't believe me, so I took out my tape recorder and made them hear the conversation. Their jaws dropped.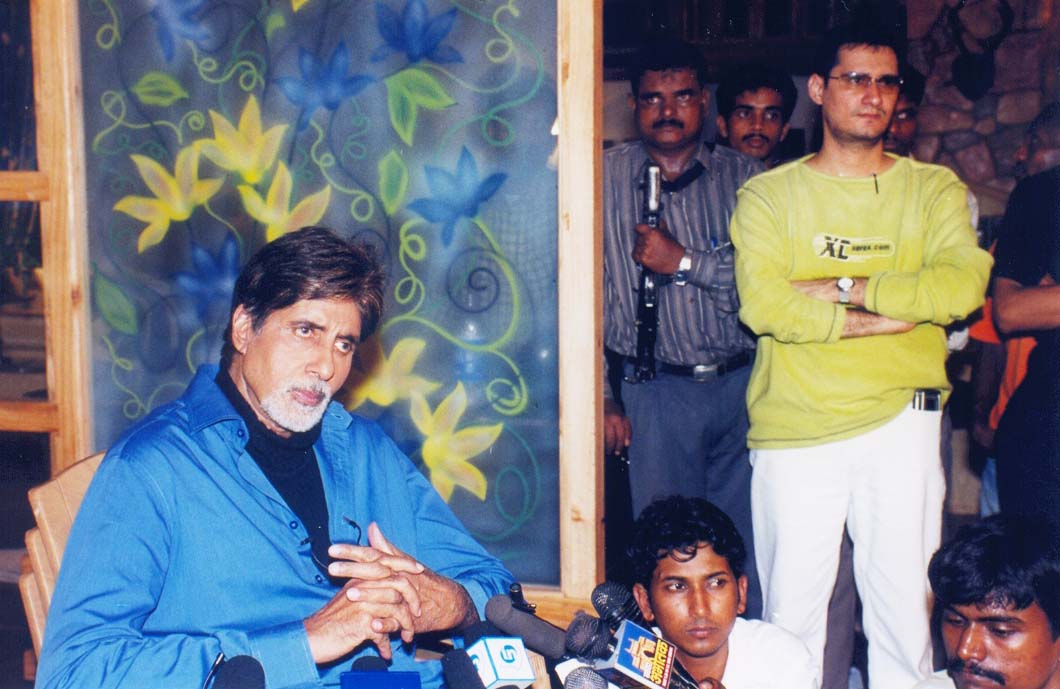 Footnote: Two years after this incident Dale Bhagwagar quit journalism and moved to Public Relations. A few years later, he handled PR for two of Bachchan's movies namely Boom and Aetbaar and had various interactions with the megastar.