Akshaye Rathi is a film exhibitor and distributor with operations spread across the central Indian states of Maharashtra, Madhya Pradesh and Chhattisgarh. While carrying forward a 70-year-old legacy in the show business, Akshaye has been a pioneer in the process of consolidation of the film exhibition sector by orchestrating a first-of-its-kind alliance between single-screen cinemas of his theatre chain Rathi Group of Cinemas, with Cinepolis; one of the largest exhibition chains in the world that operates from Mexico.
Armed with an MBA from the prestigious SP Jain Institute Of Management & Research, Mumbai, Akshaye also teaches students at various management and media institutes as a visiting faculty. He is a regular columnist with various business and entertainment publications and is widely quoted on industry matters across various media platforms. In an exclusive interview with BollywoodPR.in, Akshaye analyses some hard facts about Bollywood, the media and the PR industry.
You are known as a master networker. Can you share some tips on great networking in times of the Coronavirus crisis?
I think a few elements like sensitivity, the ability to politely agree to disagree with contrasting opinions, willingness to hear viewpoints that are opposite to yours, are key to networking at a time when we have a global pandemic to deal with. These are tough times and there is a lot of uncertainty in people's lives. The least we can do as members of the society, is stand by each other emotionally and build relationships that will allow all of us to get to the end of this dark tunnel and see light.
Do you think it's easier to get famous today?
The advent of social media has certainly made it a lot easier to become 'famous' today, but being famous doesn't essentially mean being credible, respected and loved. Those take a lifetime to earn.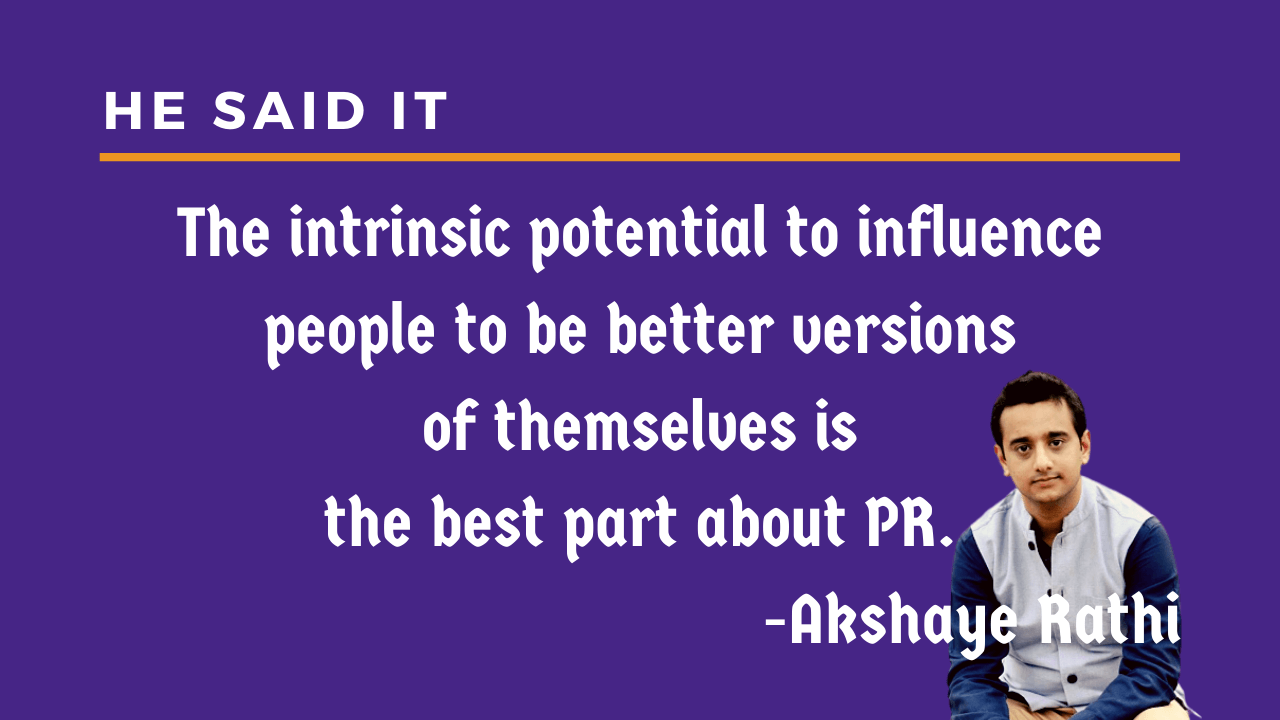 Which Bollywood artists do you think are best at their PR? And why?
In my personal opinion, a PR overdrive can actually lead to loss of credibility. Good PR is when its impact doesn't seem like the result of PR. I wouldn't want to name anybody specifically, but many actors have done it right over the years. Class and dignity are scored with subtlety.
How often do you think Bollywood stars concoct stories, romances and feuds?
Quite often. Though the public that it's targeted at is a lot wiser than what the architects of these controversies would like to believe. They see through it and know a genuine story from something that is inorganically planted.
What's the best part about PR and publicity?
The intrinsic potential to influence people to be better versions of themselves is the best part about PR. Millions of people look up to filmstars… and if PR is used correctly, it can lead to fans doing some amazing things! I've personally witnessed fans of some of our biggest cinematic icons organising blood donation camps, helping NGOs during calamities, painting the homes of underprivileged people etc. If that's what PR can achieve, imagine the possibilities.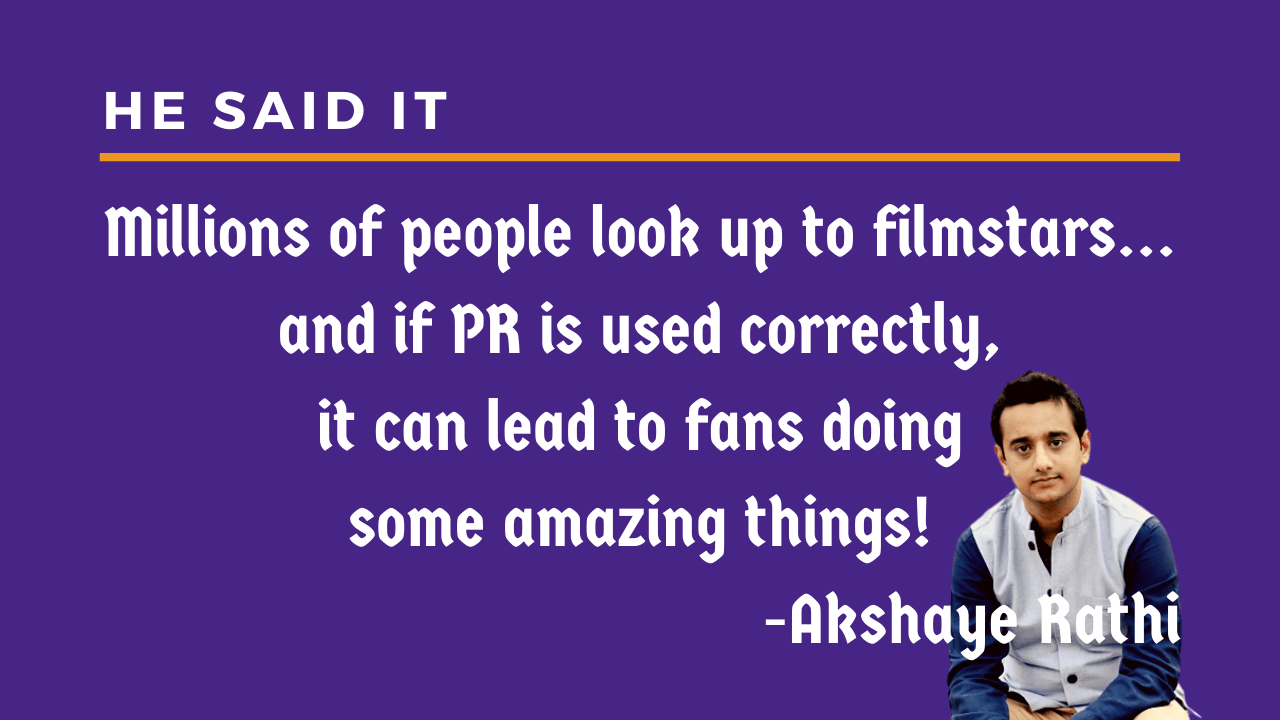 What are your thoughts on paparazzi culture?
It's great, but a degree of sensitivity needs to be infused into it. I realise that the homes of many photographers, scribes etc are run courtesy the 'breaking news' that they put out through their publications. But we all need to recognise the fact that the people they are clicking or writing about are also normal human beings who feel emotional pain, agony and humiliation. The media and talent are in a partnership, where neither can do without the other. I hope both can start being just a little more dignified towards each other.
Since PR is a profession of tremendous influence, how can PRs be responsible towards society?
By conveying messages that influence people for the right things. A recent example is Sonu Sood's drive to help stranded Indians in various states and even countries reach their homes and even find employment during the Coronavirus crisis. If the buzz generated by his acts can make others help even one person around them, it's a huge victory for humanity.
Disclaimer: The views and opinions expressed in the interview are the interviewee's own and do not necessarily reflect the views and opinions of any other individual, organisation or this website.