Your YouTube channel Filmzone is full of inspiring, educative and motivational videos. It gives a glimpse into how much of a positive and motivated person you are. But what is it that inspires you and keeps you going on this journey of helping people to realise their potential?
I love sharing my knowledge and experience. I feel that it helps people to not only get motivated but also reduces their struggle. I intend to convert this series 'Conversation With Vivek Sharma' into a popular TV show. There, I will bring some people who will share their life and struggles. The best you can do for people is to awaken them towards their own potential. We must grow as a whole society, not just person to person.
Do you describe yourself as a filmmaker or a motivator? Or something like a media maverick?
I am just a learner who is excited like a child and positive by heart. From film making, to writing shayaris, to motivating people is my passion. I am so happy that I am using my life to the fullest. When we share our knowledge and experiences, it's like the best charity. Cinema and art are beautiful mediums to convey human stories and emotions, and I am doing exactly that.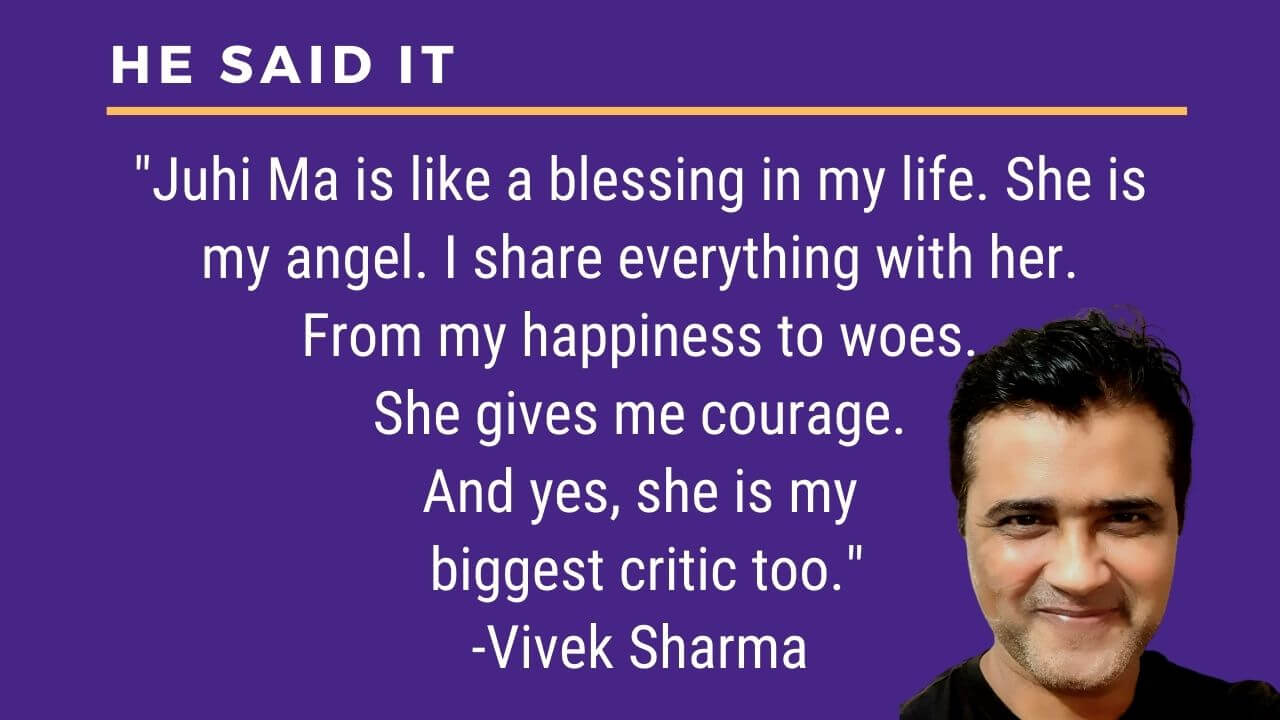 What mix of skill sets are behind your success?
My hunger to learn and to live every moment. Happiness lies in sharing. I do not waste a single day, there's no dull moment in my life. I have always found a way to be happy. I invite people for pani puri parties, so that at least for a few hours we all meet, greet and laugh.
In this virtual world, small happiness is really important. That makes me popular and in demand. I also have super memory power and recollection power, which I use while making my motivational videos.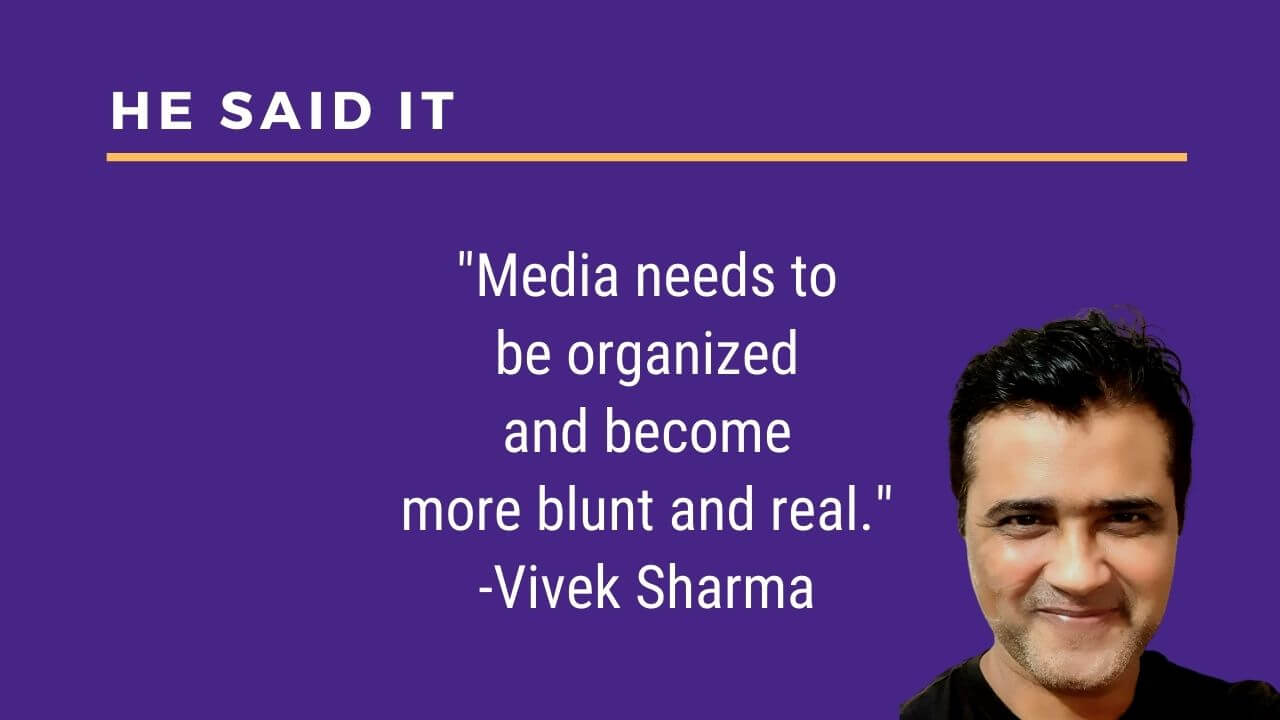 Are you satisfied with your journey thus far in Bollywood? How has the experience been with directing Bhoothnath, Kal Kissne Dekha and A Game Called Relationship?
Oh yes, what a beautiful journey this has been so far. I wanted to be a filmmaker and I became one. From a small town Jabalpur, to the mayanagri Mumbai — life has given me many lessons and many discoveries. Bhoothnath is a milestone and I so cherish creating it. Thanks to Ravi Chopra ji for believing in me and in an out-of-the-box script like Bhoothnath.
I remember that Shakhan (Shah Rukh Khan) did not even hear the entire subject. He agreed to do it and and supported me throughout. He just said, "Don't worry, I am doing the film." He worked for 10 days and that too, for free. He did not charge even a single rupee for it. I am indebted to him for that.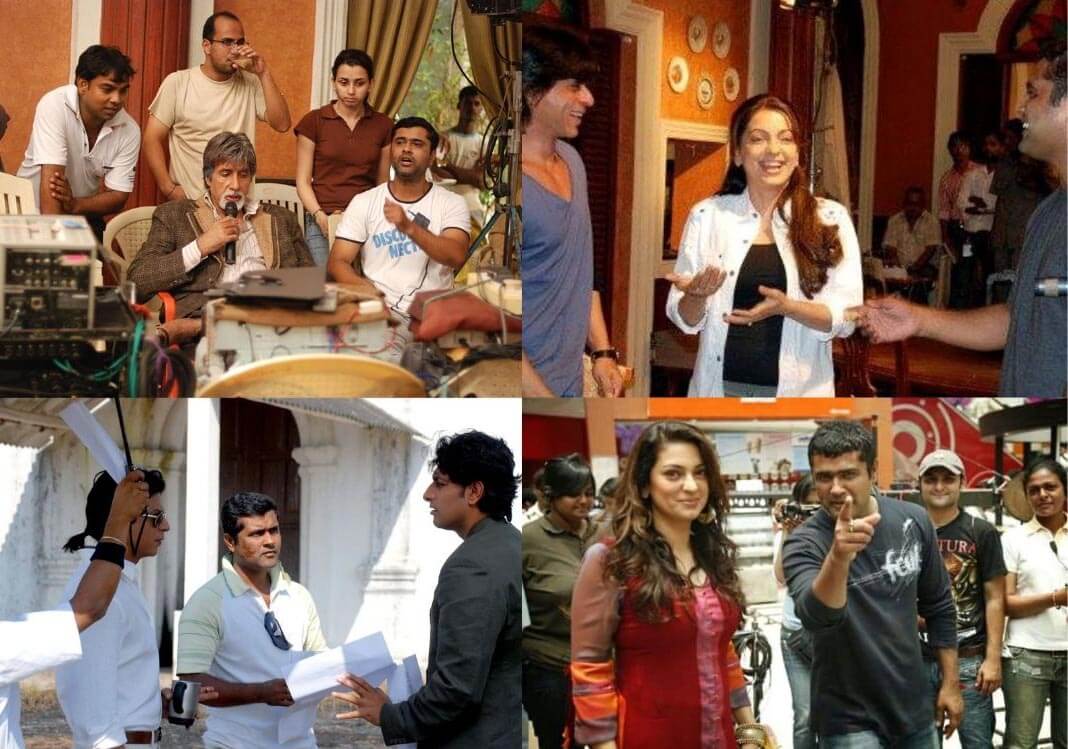 Juhi Ma (Juhi Chawla) is like a blessing in my life. She is my angel. I share everything with her. From my happiness to woes. She gives me courage. And yes, she is my biggest critic too.
Kal Kissne Dekha was a unique story of vision with a futuristic element. Jackky (Bhagnani) was very hard working, so was Vaishali Desai. The film did see some casting changes — like Govinda ji was to play the role of Kalicharan Don — which eventually went to Riteish Deshmukh. The best part of the film was Chintu da; the ever-loving Rishi Kapoor. He played the main villain and what an actor he was. Smooth, real and so fun to work with.
A Game Called Relationship made me an actor, which was so unplanned. This story is based on a real incident from my life, so I decided to play the character of the director Gautam. And guess what! People still remember my punch line "Soda mangao." I launched many new faces in this film. It was my experimental commercial film, which was released all over India before Corona came. I am so happy that my production house Filmzone is on a roll as three of my films are lined up — Mere Paise Kahan Hain, Ka Kha Ga Gha NANGA and Ram Singh Philip.
Why do you address Shah Rukh Khan as Shakhan and Juhi Chawla as Juhi Ma?
I also call Juhi Chawla ji as Juhi Ma, because long long ago when we were shooting for the film Raju Ban Gaya Gentleman in Madras (Vivek Sharma was an assistant director in those days), the unit used to call her Juhi Amma. Initially, I used to call her Juhi Ma in jest. And then it became a habit. Shah Rukh also started calling her Juhi Ma, Aziz Mirza ji would also call her Juhi Ma.
Similarly, I call Shah Rukh Khan as Shahkhan. It has been by my personalised way of addressing him. Once Jash uncle (Yash Johar) was intrigued by the nickname and pointed out that I am the only one who calls him Shahkhan. He found it unique. I should mention here that at that time, I always felt as if Shah Rukh and Juhi were like my local guardians in Mumbai. I know them since 1993. I am not in touch with Shah Rukh so much now, but I speak to Juhi Ma quite often.
Since you have worked with both the stalwarts of Bollywood — Big B and SRK — tell us a bit more about your personal interactions with them. They are both highly motivated people. Did some of their motivation rub on to you or were you a very motivated person even before you interacted with them?
Amit ji is a perfectionist. He does everything in detail and doesn't like surprises. No last minute thing. Shakhan does everything last minute. They both have one common factor and that is hunger for work and their never ending energy levels. Amit ji has worked with many new directors and his support to new talent is immense. He is the biggest employment exchange for film people. Shakhan has the courage to be experimental and adventurous. Paheli was one big example. They both are legends and a boon to cinema. After working with them, you cannot think of small things and you wish to team up with them again and again.
Which are your favourite top three motivational videos on Filmzone?
'Hind Ko Jaano', 'You Are The Storm' and 'Don't Fear. Face It.' These are popular ones. I am happy that my YouTube channel is growing.
How do you think Coronavirus has impacted the standing of Bollywood celebrities?
Corona and Sushant Singh Rajput's death has shaken our film industry. There is a kind of negative vibe in public at the moment. It has affected many stars, as they all are on the edge. Now we all have to live with the fear of Corona forever. But a fighter never gives up.
How much has your life changed because of the situation?
It has changed a lot, as there is very less one-to-one interaction with people. Stars will find it difficult as they depend a lot on public appearances.  Joblessness has also created a kind of fear in the lives of small actors and technicians. The situation is surely tense. But one has to keep striving to make it better.
Do you think that the definition of fame is changing?
Yes, for sure. Content will eventually take over and stardom will reduce. Fame will come only after a good performance and with good content. Public is not in a forgiving mood nowadays. One has to keep striving to be excellent all the time, which is actually a good thing. As that is the way people grow better in life.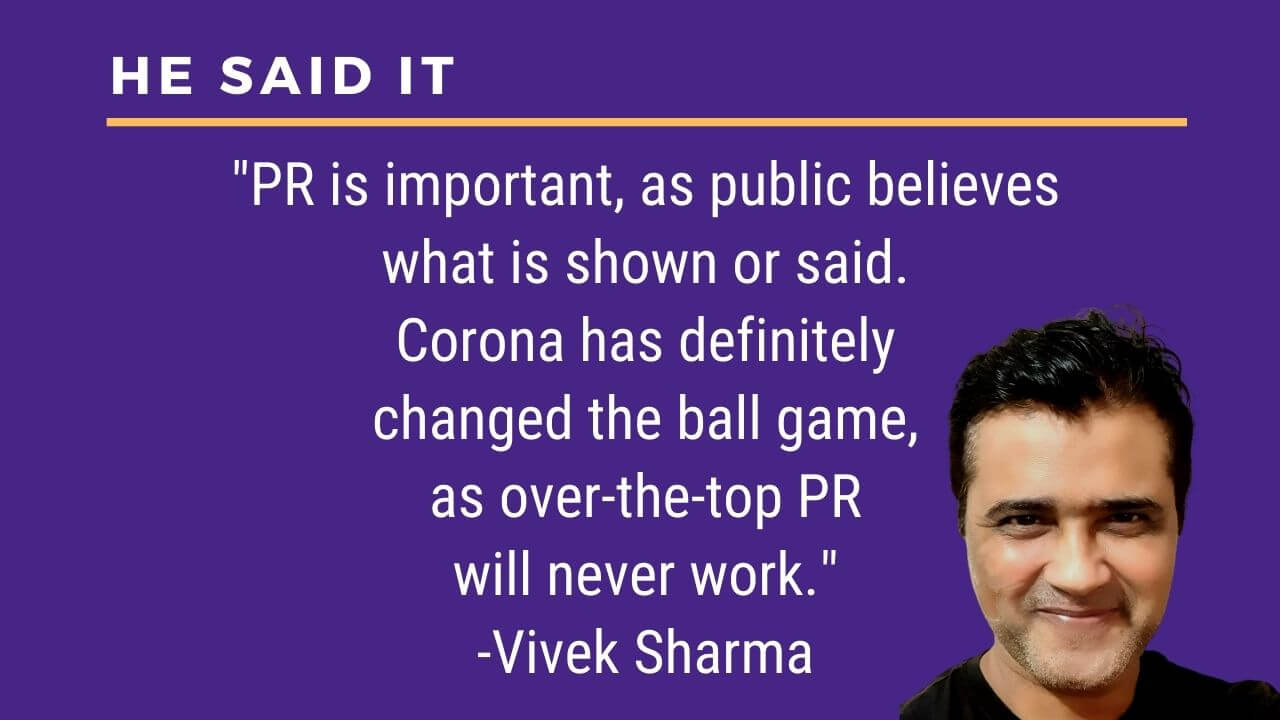 Which news medium is the most important in today's times — Internet, TV, Print or Radio?
Definitely Internet. Print is almost gone. TV and Radio will always be there.
What according to you is the value and importance of publicity?
Publicity is nothing but conditioning the audience towards your product. Now you can convince them only with a solid story and novel content. They have the choice to skip or forward your film.
What's the first thing that comes to your mind when you hear 'PR'?
Class and not over-the-top publicity. Filmmakers should not shy away from telling the story or the crux of the film. Public is tired of repetitive conversations, the type we see on The Kapil Sharma Show or any such PR-based TV shows. There are thousands of YouTubers claiming to be trade pundits or film critics. All this confuses public even more. Media needs to be organized and become more blunt and real.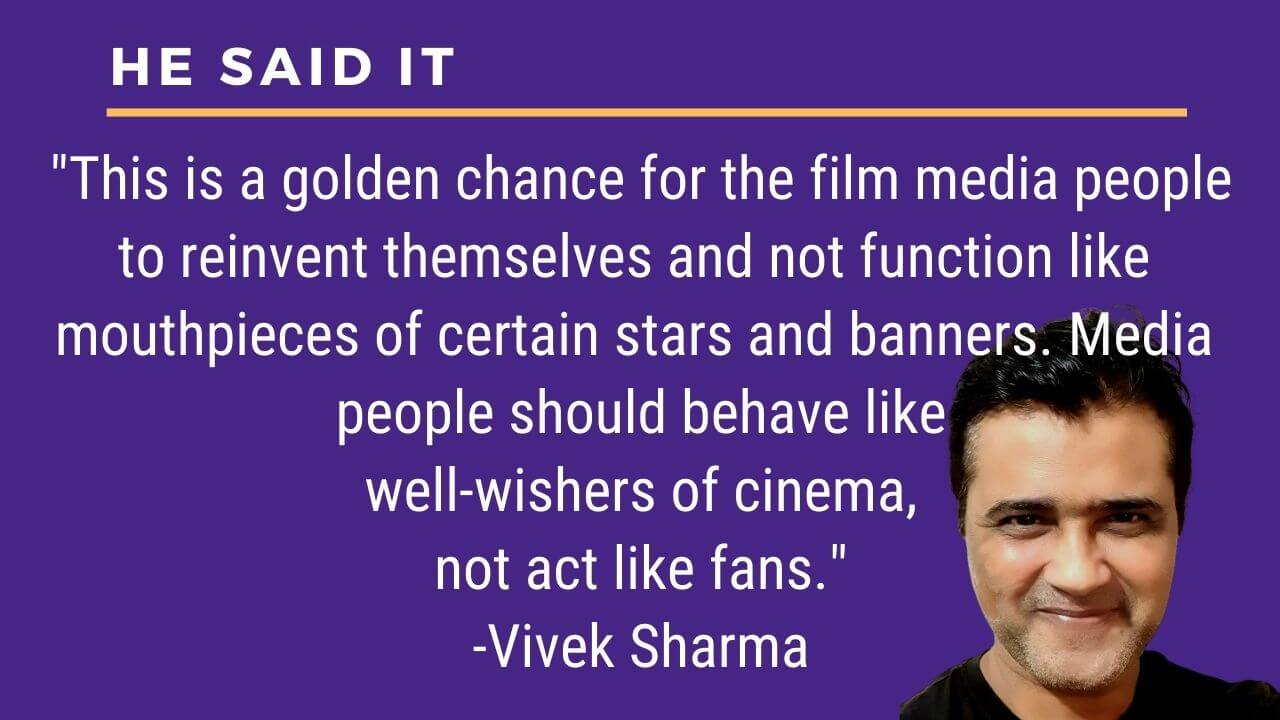 Do you think everyone in the glamour world needs PR? Or is PR an over-exaggerated thing?
PR is important, as public believes what is shown or  said. Corona has definitely changed the ball game, as over-the-top PR will never work. Glamour has been more of a part of cinema earlier, but now, it's also a part of our society. Social Media platforms like Instagram are running only because of the glamour factor and hot pics.
What do you think about the quality of journalism today? Do you think there is scope for improvement?
Oh, this is the best question. This is a golden chance for the film media people to reinvent themselves and not function like mouthpieces of certain stars and banners. Media people should behave like well-wishers of cinema, not act like fans. Paid media also needs to be curbed. A serious approach to help good cinema to revive and rise, is the need of the hour. PR, media and films are all sailing in the same boat. Its a golden chance to restructure and get self-respect.
Since you are very good with networking, can you share some tips on networking in times of the Coronavirus crisis? When the crisis is over, what do you think the opportunities will look like?
I think, work will begin in full swing and Social Media will be a great source of information. One needs to be more active and alert for job opportunities. Cinema can never die. It will just go back to its real embodiment; pure quality and entertainment. Small films, real films. Good actors will shine now.