Chaitanya Padukone: Hiring a great PR is as important to an artiste, as a rocket launcher is to a spacecraft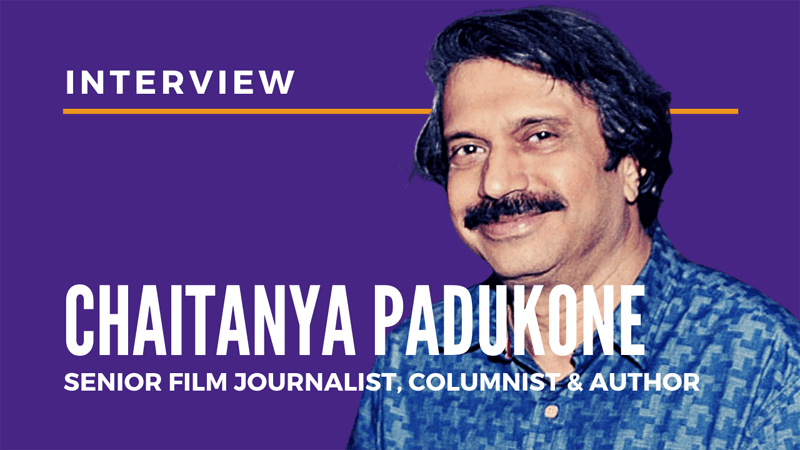 Chaitanya Padukone is one of the most eminent senior film journalists and columnists since more than three decades in Bollywood. He has authored the popular memoirs book R.D.Burmania.
He is the recipient of dozens of awards for his journalistic acumen, including one from the highly prestigious Dadasaheb Phalke Academy which has awarded the likes of Dilip Kumar and Amitabh Bachchan.
Known for his creative streak, peppered with tongue-in-cheek humour, Chaitanya Padukone's answers in this exclusive interview to BollywoodPR.in are indeed la-jawaab. Read on and you'll know.
Do you think that the 'golden age' of Bollywood stardom is over?
Well, it's as good as faded out! Maybe it may sound pessimistic. Frankly speaking stardom has become too commercial, too materialistic. Gone are those golden days when we experienced the authentic physical presence superstardom of Dilip Kumar, Rajesh Khanna, Amitabh Bachchan, Shah Rukh Khan, Hrithik Roshan and even Salman Khan.
These days it's more of 'digital stardom'. Where is that bonafide 'mass hysteria', that genuine 'frenzied adulation'. In the bygone era, stars were invariably out of reach, inaccessible and only visible from a 'long shot'. I used to jokingly jibe-term it as 'door darshan'! That's why they were called 'stars'.
Today, it's quite easy for the 'common man' to attend TV reality shows being part of a 'studio audience' and later click 'selfies' with their favourite movie stars. Or attend 'live' film award events — where you can afford to buy exorbitantly-priced tickets, and can be seated three rows and six seats away from the top A list stars. During the 'golden era' the film award events were restricted 'only' to invitees from the film fraternity and other special luminary guests.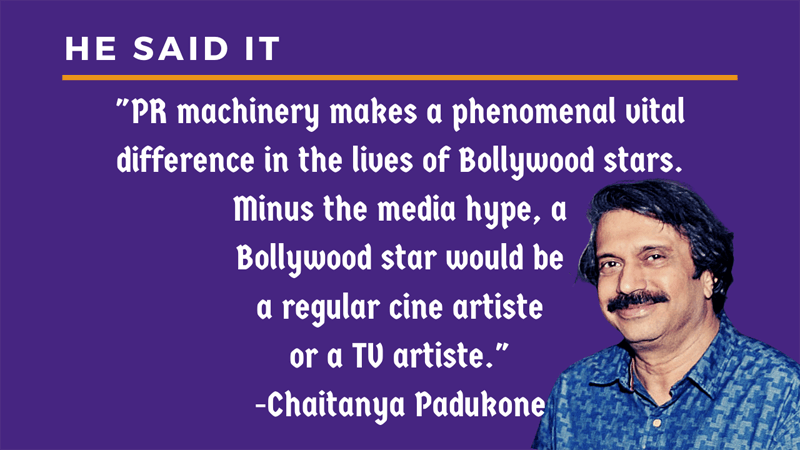 When the Coronavirus crisis is all over, what will the opportunities look like?
The unemployment phase is bound to continue and media-centric manpower — especially the migrants who will return — may even have to hunt for alternate jobs in some other diverse fields. It will be the survival of the fittest, finest and the fastest.
Optimistically speaking, things could possibly be around 60 per cent back to square 'won' (or status quo, as they say). But this bleak, slack scenario may even stretch up to April 2021. Until the entire COVID-19 vanishes into the blue, one cannot expect absolute normalcy. Provided there is no other threat emerging from some other new killer-virus, new re-invented solutions and innovative products and maverick service opportunities will possibly mushroom everywhere.
Since April 2020, it's been five months that the media and several other non-service-centric industries are used to online work-from-home (WFH) culture. Even after normalcy gets restored, there is bound to be a major spillover of this safe-and-secure WFH syndrome.
In other words, back office people who have to commute daily to remote located office locations, will prefer to operate from their cozy homes. The phobia, the paranoia, the nagging Corona fear will continue to merrily sway and swing in the subconscious levels of most anxiety-prone people.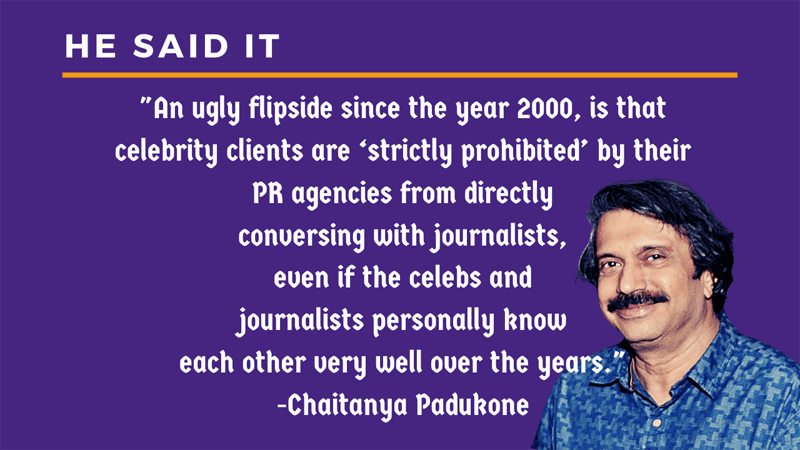 Do you think PR machinery makes a difference in the lives of Bollywood stars?
Definitely and certainly, PR machinery makes a phenomenal vital difference in the lives of Bollywood stars. Minus the media hype, a Bollywood star would be a regular cine artiste or a TV artiste. Simply because it's the aggressive promotional media marketing that catapults an actor into stardom and increases his loyal fan following. In today's hi-tech times, when besides the print and electronic, there is also the impactful online media with various Bollywood websites and also social media (Facebook, Instagram, Twitter etc) that one can effectively make use of.
Most film and TV stars and celebs may not be expected to be media savvy or may not have that much time or the skills. They may not have the contact cell numbers of the entire media. Secondly, it would be awkward, degrading and a cumbersome tough task for showbiz celebs to directly summon or host a press conference or organize their own private interviews. This also has a major risk of trial and error and mishandling and going off at an unwanted tangent.
Independent PRs and PR agencies are qualified, competent, experienced and professionally equipped to handle not just hype and publicity but also branding, crisis management, image makeovers and to organize press conferences and coordinate media interviews. Hence it makes savvy sense for every Bolly celeb to hire the right PR to manage the tricky game of 'media manipulation'.
How do you feel Bollywood PR has evolved over the years?
As compared to the 'golden era' of the 60s, 70s, 80s, 90s in the current scenario, the human personal touch, the human voice, the printed paper invitations have all been 'brutally replaced' by WhatsApp messages, emails and stray SMSs. Change is inevitable, change is constant and the PR networking is no exception. But ideally not at the cost of the 'human touch' factor.
The whole system is almost robotic, and some of the media has apparently become lethargic and laidback. That's because most of the time, ready-to-use celeb interviews and press releases sent by the PR agencies, are blatantly 'reproduced' verbatim in editorial space by journalists — that too with credit 'bylines', along with errors and blunders at times.
Yet another, ugly flipside since the year 2000, is that celebrity clients are 'strictly prohibited' by their PR agencies from directly conversing or interacting with journalists, even if the celebs and journalists personally know each other very well over the years.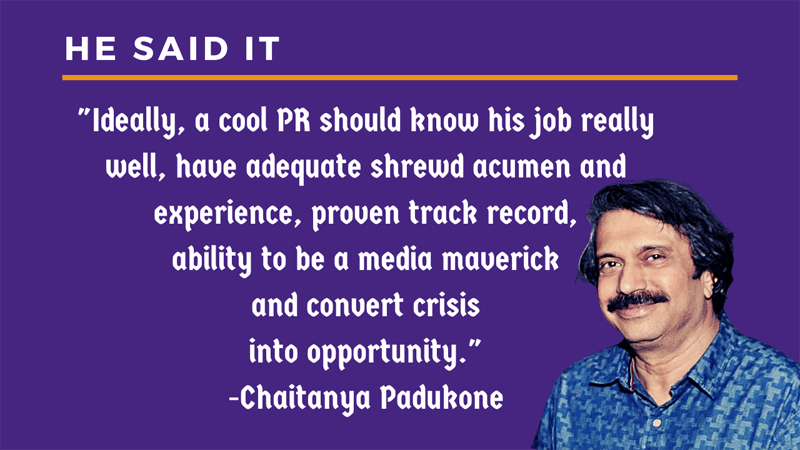 Do you think PRs are responsible towards society?
Yes, of course PRs are responsible towards society. Most of the time they are in 'remote control' of what publicity fodder of their celeb clients is to be disseminated to the print, electronic, web media and social media mills. It's eagerly consumed by the star crazy movie and TV buffs and grapevine gossip-loving society.
There needs to be some kind of ethical self-censorship and diligent vigilance that should tone down or exclude sensational risqué or sensitive quotes or data that could be detrimental to society, especially for impressionable teenaged readers and viewers who may get negatively influenced.
What books would you recommend to PR professionals?
a) 'The Art & Craft of PR: Creating the Mindset and Skills to Succeed in Public Relations Today' by Sandra Stahl.
b) 'Extraordinary PR, Ordinary Budget: A Strategy Guide' by Jennifer R. Farmer.
What piece of advice would you give celebrities who want to hire a PR agency? What are the qualities they should look for in a PR?
'PR toh hona hi tha' goes the magic mantra! Effective PR for a celeb or his / her movie is a mandatory prerequisite. Hiring a great PR is as important to an artiste, as a rocket launcher is to a spacecraft. In terms of swiftly soaring ahead in his / her branding, image building and making himself / herself 'visible' and 'saleable' and also while riding over career potholes and speed breakers.
Ideally, a cool PR should know his job really well, have adequate shrewd acumen and experience, proven track record, ability to be a media maverick and convert crisis into opportunity. A result oriented professional, yet a proactive buddy guide advisor for his client.
Disclaimer: The views and opinions expressed in the interview are the interviewee's own and do not necessarily reflect the views and opinions of any other individual, organisation or this website.