In an exclusive interview with BollywoodPR.in, Amit Behl, actor and senior joint secretary of CINTAA (Cine and TV Artistes' Association) talks about the changes in Bollywood and the importance of PR.
Do you think that the golden age of Bollywood stardom is over?
It's beginning to seem like that because even the multi-starrer films are not drawing the kind of box-office figures that they should. As you can see for a while now, films made by the top level stars are not doing very well. And I think it's because the audience is becoming too discerning. So, you can no more guarantee the success of the film just by casting a superstar, male or female.
Like in Hollywood, if somebody likes to watch a Tom Hanks film or a Tom Cruise film or a Ben Affleck film for that matter, they all have their niche areas and they choose their scripts accordingly. That is what is happening in Bollywood too because of international studios. Great scripts have gained priority over the star. That is why all stars are becoming very particular about what kind of scripts they want to choose.
Even though in B and C centers (the villages where they swear by certain stars), these star-based films might do phenomenally well; but the multiplex audience in the A and B centers demand films with a lot of substance. Bollywood stardom has changed, because among saleable actors, unlike the olden times when there were just a few, we've now got at least 10. Now, they are all looking for great scripts, good directors and stuff, because in today's Bollywood just being a star is not enough.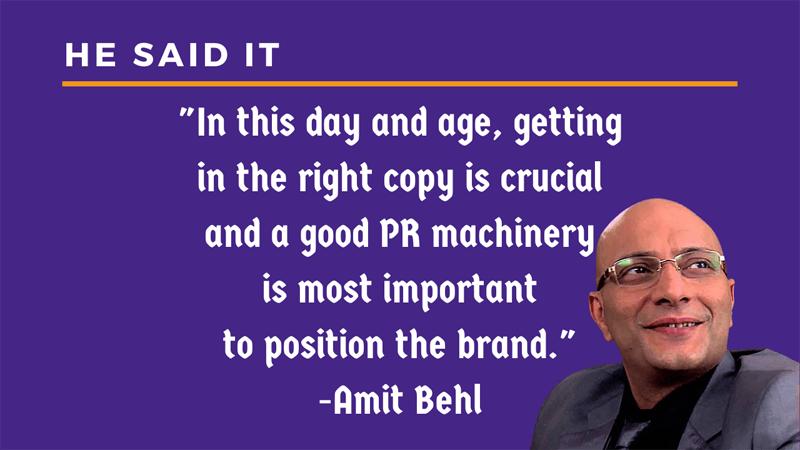 When the Corornavirus crisis is all over, what will the opportunities look like?
Right now, it's really difficult to say because we don't know when the Corona crisis will end. We don't know when the vaccine is going to come out or when the theaters are going to open. We have no clue about the new kind of content that is going to come out on the streaming platforms. Are we going to see the revival of the drive-in theaters, as it has already happened in some places.
So, these are certain things which need to be figured out first. If the phenomenon of social distancing is going to be retained post pandemic, then that means the entourage of people that the film or television crew used to carry with them is going to be cut down, leaving a number of people unemployed.
Payments are going to be affected because at the end of the day it all comes down to the film's box office success, amount of online views and if it can get an international release. And at the moment we aren't sure if there will be any international releases or about any other kind of tie-ups.
So if by chance any of those are going to reduce, it will result in advertising revenues going down. Overall opportunities look a bit grim right now, but we have to pass through this rough patch.
Do you think PR machinery makes a difference in the lives of Bollywood stars?
Oh definitely, it does! A correct PR person and a correct media campaign are very essential, especially now with social media and related online media becoming our main source of information. In this day and age, getting in the right copy is crucial and a good PR machinery is most important to position the brand.
That is why the PR machinery in Hollywood as well as here makes a very big difference. I also believe that the PR machinery needs to be properly equipped to cater to the star at a humane level like his/her vision and dreams, because the PR plays an important role in handling things like publicity for endorsements, help in impressing followers on social media and the zeal of the people trying to watch the star's next film.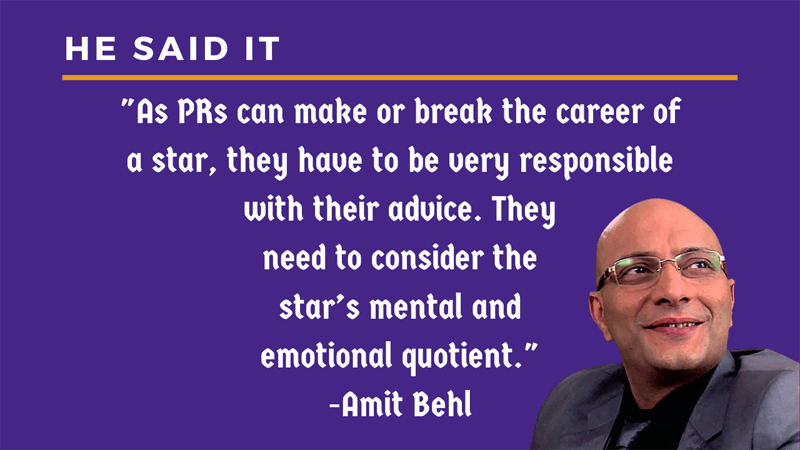 How do you feel Bollywood PR has evolved over the years?
It has evolved incredibly over the course of time but I do think that it has lost a little bit of personal touch. When we started out in the industry, there were some great PRs and some of them are still around, but PR wasn't taken as seriously as it is now by the media and entertainment institutes.
PR has evolved professionally with proper agencies that are doing multiple things, but I think somewhere down the line it has lost the personal touch because now you have become just another client; that one-to-one feel which the great PRs of our country added is gone. But that used to be possible because the industry was smaller at that time.
Back then we had Bollywood films, regional films and television — which at the time was growing. In television PR a lot is channel dictated. PR mechanism for the streaming platforms is the new priority in today's time. PRs can create a new star by catering to the audience with a niche for that type of content.
Do you think PRs are responsible towards society?
Yes, of course. While many of them are, some of them are very ruthless when they feel a need to position their client in a certain way, or if they want to put down a certain rival instead of their own client. So, in those scenarios their sense of responsibility is important because we are in the field of media and entertainment — we are there to make people laugh and cry.
PRs need to understand that they have a huge social responsibility as they can make or break the career of a star. I think they have to be very responsible with their advice too, as they need to consider the star's mental and emotional quotient.
Which book or movie would you recommend to PR professionals?
One of the books I would recommend is 'Words. Sounds. Images: A History of Media and Entertainment in India' by Amit Khanna. Another would be this lovely book called 'Once Upon a Prime Time' written by Ananth Mahadevan.
As for movies, I think PRs need to focus on all films which focus on human interest or marketing trends. PRs need to be more aware of the current trend, so that they can push their talent into the zone that gets him/her getting exciting jobs.
They also need to gain a lot of international exposure as well as be familiar with the Indian classics. It's similar to… say when you position yourself as an actor to play a dacoit or a bandit, it's as important to understand Chambal as it is to understand why Sergio Leone made the Spaghetti Western films.
What piece of advice can you give celebrities who want to hire a PR agency? What are the qualities they should look for in a PR?
It is of great importance that the PR connects with you because I feel that the PR is sometimes more important than the celeb manager. The celeb manager who manages the star and the PR should also be in absolute sync; as we say it in Hindi it's like 'choli daaman ka saath.'
The celebs need to keep in mind that it doesn't matter if it's a big firm and they have got a lot of contacts on some social media outlets, some newspapers or some connect with TV channels etc, unless the PR connects with you. There has to be a symbiotic relationship between the celeb and the PR, both of them should be able to understand each other for the betterment of the celeb's career.
And while the celeb managers can be ruthless, a PR cannot. They have to be more sensitive and strive to project the right image. They have to understand that their client also has a social responsibility.
Disclaimer: The views and opinions expressed in the interview are the interviewee's own and do not necessarily reflect the views and opinions of any other individual, organisation or this website.