Sushen Bhatnagar: Finally, my city has the scent of magic in the air
Uttar Pradesh beckons filmwalas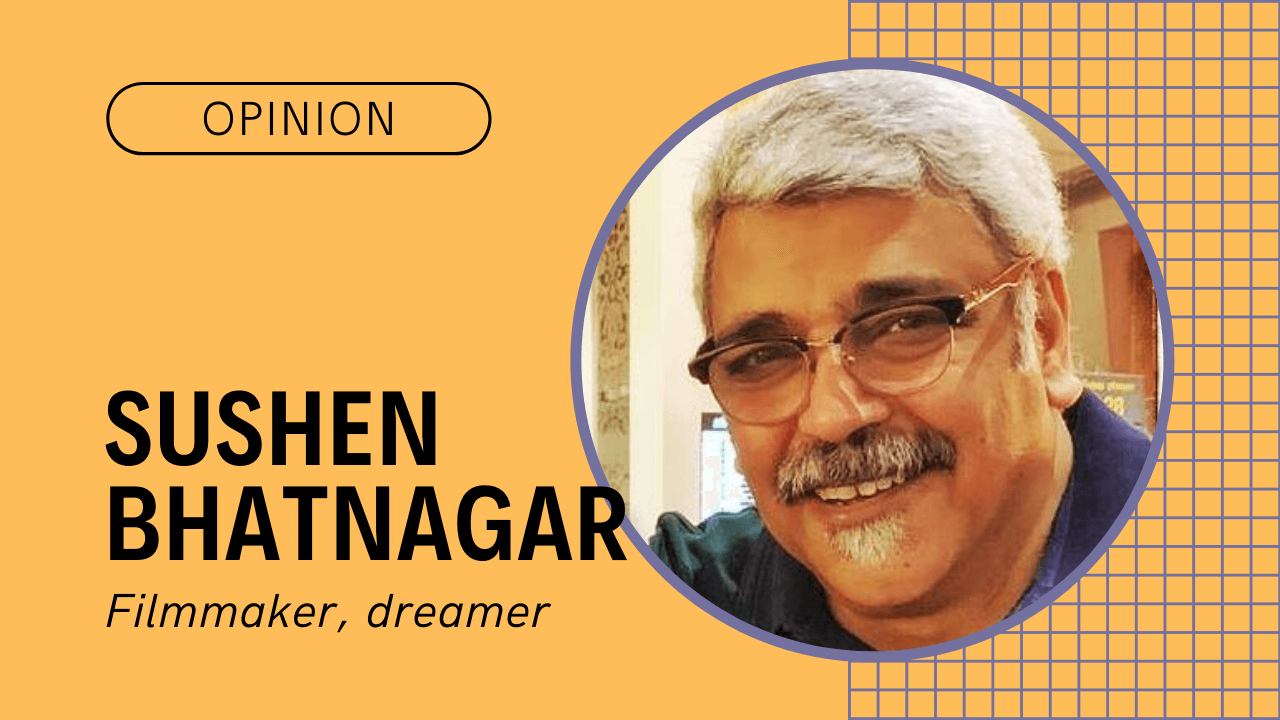 Mega Film City in Uttar Pradesh
The other day it was announced by the Honorable Chief Minister of Uttar Pradesh Yogi Adityanath, that a mega Film City would be made in the state. I was overwhelmed. I was grateful. Finally, the much overdue necessity was being addressed.
I hail from the city of Lucknow and so as a filmmaker myself, the question had always bothered me as to why be it that Hindi films do not have a base within its own state? Why it was that Bombay became the adopted land and it was here that it was nurtured? It was here that it flourished in leaps and bounds to reach a glorious status. Hindi films made here, became a nation's identity, even beyond its shores. I searched for answers, but none, were forthcoming. Still I tried to reason.
Bombay kickstarted what could have been UP's legacy
India fell in love with cinema first here in Bombay. July 7 1896, the Lumière Brothers' Cinématographe showed six soundless short films in the city's grand Watson Hotel and the magic spell was cast. Perhaps this one event provided the kick start and Bombay got the opportunity to become the cornerstone of cinema in India. Reasonable. Uttar Pradesh could wait.
When Dada Saheb Palkhe made the first feature film of India in 1913, the subject of his film was Raja Harishchandra. And when the first talkie Marathi film was made in 1932, by V.Shantaram, again it was Ayodhyecha Raja based on the story of this legendary king, as recounted in Valmiki's epic, Ramayana. Lanka Dahan made in 1917 by Dada Saheb was screened in West End Cinema, Bombay and according to some film historians, the shows were held from 7 am to 3 am the next morning.
The film went on to collect an astounding sum of Rs.32,000 in just ten days! It is said that the coins collected were transported in gunny bags on bullock carts! The film industry had the taste of one of its first mega hit! The subject of the film again had its roots in the land of Ayodhya only difference being that this time it was Raja Ram instead of Raja Harishchandra.
The writing was on the wall. There was a gold in the stories rooted in the Hindi heartland. And films were going to be the tool to mine that gold. The wonder of cinema was going to mesmerise the whole nation. One only had to tap into that opportunity.
The mother source
Unfortunately, the actual land of Ayodhya remained untouched. Tales of Ram and Krishan lit up the silver screens in the silent ear, but the state of Uttar Pradesh did not wake up to the call of the mystic.
It took a host of Marathi, Bengali and Punjabi filmmakers to adopt Hindi as their own and give it wings in this wonderland called Bombay. It's ironical but Lata Mangeshkar's first Hindi song, "Ek sapoot ki duniya badal de tu" in 1943 was for a Marathi film Gajaabhaau.
Such was the love for the language of cinema, that it transcended the other language barriers and state boundaries. They spoke in different dialects but churned out the best of Hindi cinema. Yet all along an umbilical cord connected Uttar Pradesh with the Hindi films made here in the Maratha land and that has remained unscathed over the years. Hindi films flourishing here always drew strength from the mother source.
It is no one's guess here that we rue the fact that Hindi film industry took roots in Bombay. We applaud and are indebted to the city for that. Jai Maharashtra. And thank you.
Why the need to revive UP pride through cinema
What is sad though is that no effort was made to reap the benefits of it in its own backyard by the people who mattered most in those times. Every state is proud of its own language. Why Hindi was neglected and meted out such a treatment for all these years? Is it because Uttar Pradesh was made to feel apologetic of not only Hindi, but, its own state culture by some? Or is it because it was Awadh, which bore the brunt of the British tyranny most, because of the 1857 revolt, Lucknow being the epicentre of it?
Remember it was the British Raj till '47. But questions have remained even after we got our Independence. Every state takes pride, and rightly so, in the uniqueness of its own mother language. Why Uttar Pradesh's language Hindi was never given a leg up?
When Alam Ara was released by Ardershir Irani in 1931 in Majestic Cinema in Bombay, as the first talkie film of India, Jamai Shashthi in Bengali, Bhakta Prahlada in Telegu and Kalidas in Tamil were produced and released in their respective states in the same year! The biggest film industries thus sprouted in Bengal, Tamil Nadu and Andhra Pradesh. My state was missing on this revolution of cinema that would go on to grip the nation's imagination like never before.
The question again is why? Why was a whole Industry with such bright prospects denied to Uttar Pradesh? Films were being made in Hindi and the Hindi heartland was just missing out on the benefits. No studios came up here. We almost disowned our own language. It was left for others to take care of it!
Let me single out Bombay Talkies and Prabhat Studios that took the lead. Marathi cinema flourished under the excellence of V.Shantaram, who founded Prabhat, along with four of his other partners, but so did the Hindi cinema. They did not discriminate. Hindi flourished in films with as much exuberance as the local dialect of Marathi in the land of Maharashtra.
It is again ironical to note, that the initial burst of Hindi films of Bombay Talkies from 1935-39, came from the directorial brilliance of a German called Franz Osten. For Bombay Talkies' first four years, all the films produced under the banner, were directed by this talented German.
Himanshu Rai and Devika Rani were the owners of Bombay Talkies and it was this trio that gave us the legendary stars of Hindi cinema like Ashok Kumar in Achhut Kanya, Dilip Kumar in Jwar Bhata, Dev Anand in Ziddi and the mesmerizing Madhubala of Mahal. Raj Kapoor was an assistant of Amiya Chakarvarty of Bombay Talkies before he went on to become the famous showman of Hindi cinema. The star actors and directors from this studio became the bedrock of the Hindi films as we know of today!
It pains me to summarise here again that none from my State of Uttar Pradesh got the opportunity to pick up the baton from where it had begun and contribute to the great journey that Hindi cinema was embarking upon! Uttar Pradesh was missing out on a great opportunity. It just saw from afar its language bloom but sadly it did not step forward to do the needful.
"Yes, Dev speaking"
A small personal anecdote about Prabhat Studio I would like to share here. I graduated from Film and Television Institute of India (FTII) having done my course in Film Direction in the year 1989. But it was in my second year that I met Dev Anand. We were supposed to do a song exercise where we re-shoot a song of yesteryears in our own way. For the purpose I had the audacity to call up Dev Saab.
Those were the days of landlines and the phone dropped from my hand when I heard a voice saying "Yes, Dev speaking". I could not believe that I had not only spoken to Dev Anand, I even had an appointment with him. I landed at his office the next day with my request. This time it was Dev Saab who sat up in his chair and asked incredulously, "Tum chahate ho ke main Dev Anand wahan aake tumhare gaane mein act karoon?"
I replied in a small voice, "Yes." He was more intrigued and he further goaded, "Tum jaante ho, jo gaana tum shoot karna chah rahe ho, uss gane ka director kaun tha?" And again I replied steadily that, "Sir, it was you." The song was "Phoolon ke rang se dil ki kalam se" of Prem Pujari; and he was the director. He again questioned me, "Tum aisa kya behtar kar sakte ho, jo maine nahin kiya?"
At this I explained my concept. How much convincing it was or not is not important… what is important was his answer… and he said, "Main Prabhat ke liye nange paun bhi aane ke liye tayyar hoon. Tum date bata do."
These words resonate with me even today. For those who may not know, the Film and Television Institute of India, Pune, was once the great Prabhat Studio. It was the fountainhead of great cinema of those times. Dev Anand and Guru Dutt sat there under the tree, which we call the Wisdom Tree.
But it took this statement of Dev Saab for me to realise the sanctity of the land on which we as students strolled with the arrogance of a youngster who thought he knew everything. Dev Saab's reverence for the place made me bow to it in true earnestness and I have never forgotten the legacy of those walls since.
So when we are excited today about new possibilities for Hindi Cinema in our Pradesh we must pause. In our zeal to own something of our own that was denied to us for long, let us not forget and more importantly, not demean the role of the stalwarts working here who have striven to bring to its zenith, Hindi cinema in all its glory. K.L.Sehgal, Devika Rani, Ashok Kumar became the first stars. Followed by the golden trio of Raj Kapoor, Dilip Kumar and Dev Anand. Mehboob Khan, K Asif, Bimal Roy, Hrishikesh Mukherjee, B.R.Chopra, Guru Dutt, Vijay Anand, Chetan Anand, Yash Chopra and the list is endless.
They came from across the length and breadth of the country to give Hindi cinema a place of pride in the country and the world. Hindi cinema was defined by them and then chiselled into a fine art form. So before laying any claim on what in fact was created by them, let us pay due respect to these luminaries, who treated Hindi cinema as their own.
The beauty of Urdu
The most impacting contribution of the State of Uttar Pradesh to Hindi cinema came from Urdu, which is as much the language of the state as Hindi. Urdu is also much loved here because it was in Awadh that it took birth. There may be different claims to what I am saying but since I am from Lucknow I know that Urdu spoken here cannot be heard anywhere else in the world. It's just different. Maybe I am biased in saying this but beauty of the language is a legacy gifted to the nation by this region of Awadh.
It won't be grossly wrong to say that Urdu became the twin sister of Hindi. The two are so intertwined, their vocabulary so merged into each other, that one couldn't separate the two, at least, in the daily spoken form. So when films started speaking and songs became an integral part of telling the story, it was this Urdu laced in Hindi that dialogues sounded royal and songs had the illusion of magic.
It were the writers therefore, who represented most the State of Uttar Pradesh in the Bombay film industry. The lyricist, the poets, the shayars whether it was Jaan Nisar Aktar, Kaafi Azami, Majhroo Sultanpuri, Neeraj, Shailendra… the list is endless. They became the backbone of cinema. Songs were a rage right from the moment when sound came in, so much so that Indrasabha a film in 1936 had almost 72 songs.
But with the arrival of these lyricists songs touched new heights. And then came the maestro, Naushad. His contribution to Hindi film music is insurmountable. I take great pride in remembering that Naushad was born in Lucknow.
Having said that let me state here quite emphatically, that throughout this beautiful journey of making films, it was never us versus them. We brought in the language and they made poetry out of it. We brought in the music and they made a melody out of it. Bhatkhande, the school of Hindustani music and dance is situated in Lucknow but a million songs, seeped into its classical legacy, sprung out here in film after film. Bombay was a point of confluence of dreamers and seeker and the magic of cinema happened. We all love it.
Yet the ache remains. We had so much to give. There could have been so many more who could contribute. Somewhere we missed a trick. Uttar Pradesh, which prides itself of giving the most Prime Ministers, fell short of giving Hindi its due. I will restrict myself to cinema but I will reiterate, that I am pained at the fact that all states have a thriving film industry, why was our state denied the same? Whom should I hold accountable?
A new beginning
After passing out of the Institute, I shot my first directorial venture in my state. Nainital was still not a part of Uttarakhand. A full-length feature film for television was not usual for those days. I remember we had a Chalchitra Nigam at that time. Because I was amongst the very few who had gone to FTII from Lucknow, I was perhaps the first there to use the equipment. The lights, the track and trolley and the generator were all brand new. The paint burnt off from it when the lights were switched on for the first time.
But that was in the year 1990. Since then much water has flown under the bridge. The lights switched off then were never turned on. What happened to the equipment thereafter, I am not aware of.
Uttar Pradesh has seen some brilliance locally in fits and starts. A Muzzaffar Ali brings to life a poetic Umrao Jaan, a nostalgic Shashi Kapoor with his director, the great Shyam Benegal sketches Junoon on the palate of Lucknow landscape, M.S.Sathyu's haunting story of a Muslim's plight post partition reverberated in the streets of Agra and Satyajit Ray came all the way from Bengal to make a Shatranj Ke Khiladi in the by-lanes of Lucknow, immortalising the bygone era of the Nawabs. Sadly, while all this and many more happened, this was still not sufficient to give the much-needed impetus to an Industry here. There was again a lull of many years.
Renewed  hope
The promise to have an indigenous Hindi film industry in our own heartland remained just that. A hollow promise. A few years back it was the Akhilesh Yadav government that again infused some hope by bringing in a scheme of film subsidy. The effort had desired results. Lucknow started to open up. It took a big banner like Yash Raj film, when they shot Ishaqzaade here, that made it possible for the locals to see the benefits of a functional industry in its backyard.
Then came many other biggies to reap the advantage laid out for them. Am grateful to Akhileshji for that. But now with Yogiji I am hoping that this announcement will take things to another level and I am overwhelmed at the possibilities! There is talent in abundance here. It just needs to be tapped. There is money too, for the taking; it's just that those investing are assured of a safe return. It's time now for writers and directors drenched in the local flavor to descend in hordes and bring alive the potential of my Pradesh like never before.
The floodgates are open. Already we are witnessing a slew of Hindi movies being shot here. My city has started to smell the scent of magic in the air. Let the creative juices flow unabated. Opportunities lost, can now be regained with aplomb. The state had been a bystander all these years. This needs to be corrected.
My appeal to Yogiji would be, please don't take your foot off the pedal now that you have given flight to our fantasy. Let's give the Hindi Film Industry a new home to prosper.
Disclaimer: The views and opinions expressed in the article are the writer's own and do not necessarily reflect the views and opinions of any other individual, organisation or this website.