Fashion photographer Somsubhro Sarkaar gets into the skin of dignity
"Creativity is the awakening of the consciousness and soul," he remarks.
As a form of protest against the atrocities towards women, for a year, fashion photographer Somsubhro Sarkaar found a unique way to depict beauty. From a deep realisation, he started portraying their courage as a form of beauty rather than their skin.
Som quips, "women have always been a central subject for my camera. In fact, it wouldn't be wrong to admit that their beauty has often helped me earn my bread and butter."
Somsubhro Sarkaar's recent clicks:
But when Som realised the kind of atrocities happening to women all around the world, his creative consciousness pushed him to drift away from projecting women as beauty objects, and rather search for the beauty in their power to fight for dignity and self-esteem.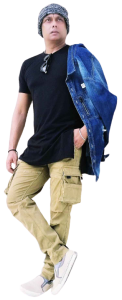 He remarks, "Creativity is the awakening of the consciousness and soul. Creativity is thus the metamorphosis of the soul."
His campaign #MyIdentityMyPride is such a metamorphosis which originated from his mind and later was adopted by a very big corporation through a popular advertising agency in Mumbai.
The campaign was one of the most successful corporate campaigns winning awards and accolades. It received the 'Abbys-Bronze' in the social campaign segment. The corporate campaign and the award function based on it was graced by popular Bollywood celebrities.
Summary:
Som's sense of responsibility, love and respect towards the fairer sex has culminated into an idea, where he stopped portraying women in the light of a beauty product, but took the effort to travel throughout India to find women who are fighting against all odds to protect themselves and others from the atrocities of the society.
The concept was based on an ancient cosmic theory of the 'Shakti Peethas' simplified by promoting the idea that if women jointly unite their energies to fight for themselves, they can bring a change in society.